BOILING POINT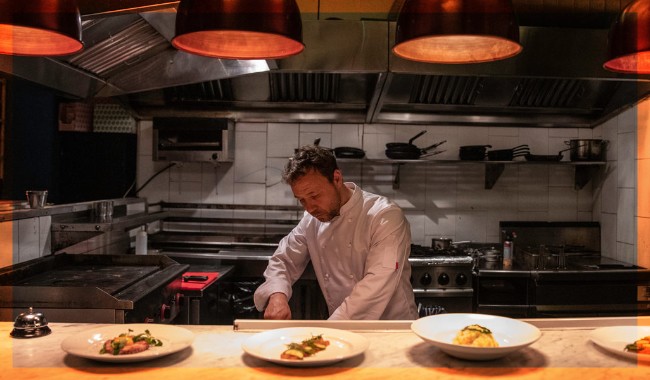 Book Tickets
Click a time to book tickets
Info

95 minutes
Director: Phillip Barantini
Cast: Stephen Graham, Jason Flemying, Hannah Walter
UK (2021)

Synopsis

"If you can't take the heat, get out of the kitchen" is a saying that becomes all too real in Phillip Barantini's tour-de-force sizzler BOILING POINT.




Chef Andy is under stress: his top restaurant has been stripped of two stars, all the tables are overbooked because of the holiday season, and his former mentor, a culinary icon, has shown up unannounced accompanied by a respected food critic. As the mounting pressure brings the mood of his team members to the boil, how long will Andy manage to keep it all together?




Shot in a single tale BOILING POINT is an entertainingly gripping and breathless journey through the hustle and bustle of a workplace populated by recognisable, believable characters. Alongside an outstanding ensemble cast, Stephen Graham's electrifying performance alone merits three Michelin stars.




Plus!




PLAY IT SAFE (15) 13mins (UK 2021)

Coerced into playing a racial typecast in a fellow student's play, Black drama student Jonathan is faced with the all-too-familiar decision: to challenge prejudice, or play it safe?




Winner of a Grand Jury Prize at the South By South West Festival, writer/director Mitch Kalisa's short film PLAY IT SAFE is an ingeniously audacious and tense tense look at the unconscious racism to be found even in seemingly the most liberal parts of society.




Directed by Mitch Kalisa

Cast - Jonathan Ajayi, Heather Alexander, Kate Ovenden, Charlie O'Connor.