HOSTILE + Q&A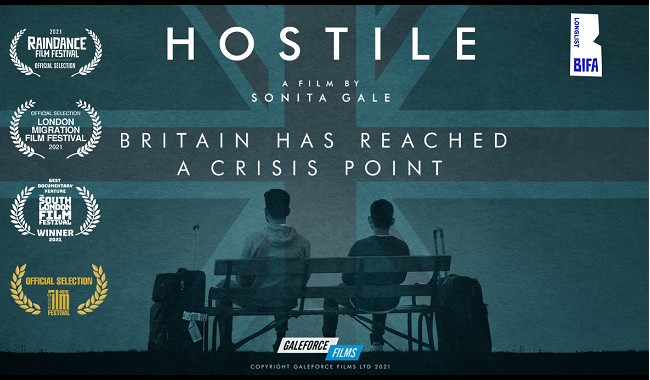 Book Tickets
Click a time to book tickets
Info

120 minutes
Director: Sonita Gale
Cast: Maya Goodfellow, Patrick Vernon, Brad Evans, Gargi Bhattacharyya, Jeevun Sandher.
UK (2021)

Synopsis

"It's not British. - It's Brutish" George the Poet




What does it mean to be British? How does it feel to be told you don't belong? Focusing on the UK's complicated relationship with its migrant communities and told through the stories of four participants from Black and Asian backgrounds, this highly acclaimed documentary by writer, producer, director Sonita Gale, uncovers the impact of the evolving 'hostile environment' policies that target migrants.




HOSTILE explores how the lives of international students, members of the Windrush generation and 'Highly-Skilled Migrants' have been most deeply affected and the real life real-life consequences for those trying to navigate their everyday lives in this hostile environment. It is a rich and comprehensive exploration of the UK's approach to immigration and in this new new era of stricter immigration regulation, a very timely one.




Followed by a Q&A with director Sonita Gale and film critic Jason Solomons.