THE FRENCH DISPATCH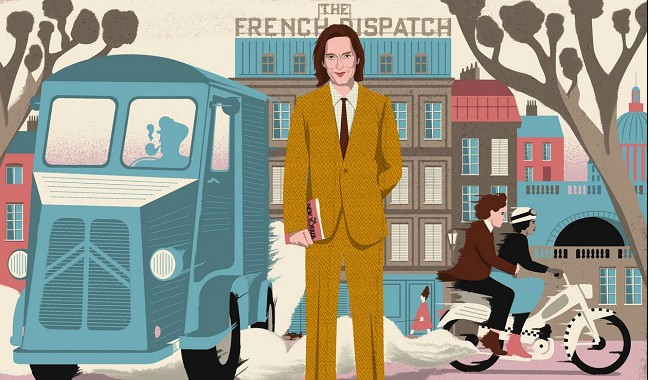 Book Tickets
Click a time to book tickets
Info

108 minutes
Director: Wes Anderson
Cast: Bill Murray, Benicio del Toro, Frances McDormand, Timothée Chalamet, Tilda Swinton
UK/Germany (2021)

Synopsis

The wonderful world of Wes Anderson returns with all the writer-director's impeccable style and flare, deadpan whimsy and inventive dedication to detail in full flood in the stylish, visually rich and very funny THE FRENCH DISPATCH.




On the death of its beloved Kansas-born editor the staff of The French Dispatch, a widely circulated American magazine based in the French city of Ennui-sur-Blasé, convenes to write his obituary. Memories of Howitzer flow into the creation of four stories: a travelogue of the seediest sections of the city itself from The Cycling Reporter;"The Concrete Masterpiece,"about a criminally insane painter, his guard and muse, and his ravenous dealers; "Revisions to a Manifesto,"a chronicle of love and death on the barricades at the height of student revolt; and "The Private Dining Room of the Police Commissioner," a suspenseful tale of drugs, kidnapping and fine dining.




Such past contributors to Anderson's unique universe as Bill Murray, Tilda Swinton and Owen Wilson are joined by the likes of Timothée Chalamet, Frances McDormand, and Benicio del Toro to form a dream of an ensemble cast. Packed with jokes, cultural references, and stylistic tricks, the result is a dazzling, delightfully dense delight.