Opening Night: Les Démons de Dorothy + 2 other dirty cinematic t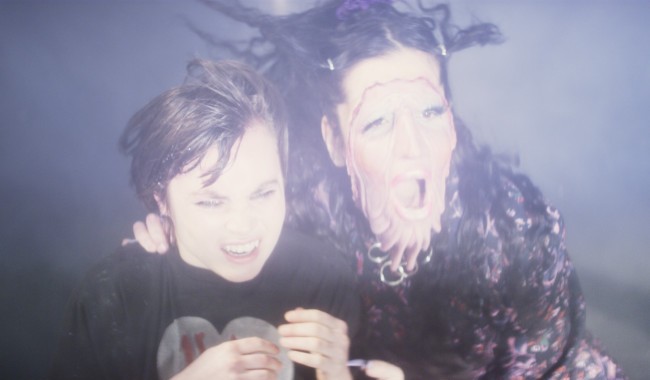 Book Tickets
Click a time to book tickets
Info

90 minutes
Director: Alexis Langlois
France (2021)

Synopsis

This year's film programme is glistening with camp, gore, sex, fantasy, and lesbian sadness. One film that exemplifies all of this is Les Démons de Dorothy, the new short film from Alexis Langlois, renegade director of Terror, Sisters!




A moody lez and a bit of a loser, young film director Dorothy has been told to make mainstream films instead of her stupid queer comedies. She reacts by downing Heinekens and bingeing her fave TV show, Romy the Vampire Slayer, magically summoning otherworldly, prosthetic, big-breasted, and frankly fabulous incantations of her very own personal demons. With them she takes a ride on a Y2k pink motorbike through a sapphic cinematic dream world, in what we are calling the film of the year.




In this programme we're celebrating the short film work of France's queer énfant-terrible Alexis Langlois with wild new short Les Démons de Dorothy + 2 other dirty cinematic trips.




Trinkets and Dark Thoughts, dir. Alexis Langlois | France 2016 | 27'

The most realistic afters ever shown in cinema. Tired drag queens mix with debauched grannies,

drunken vagrants, soft dicks, and shy virgins over the course of a morning.




Your young years will dry your tears, dir. Alexis Langlois | France 2017 | 32'

A short musical about inconsolable babydyke Billie finding (some) hope through literature.