JARV IS MOVE BEYOND THE PALE + Q&A WITH JARVIS COCKER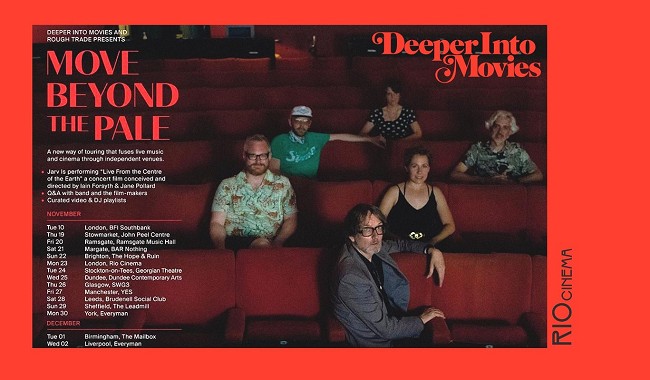 Opens Mon Oct 19 2020
Coming Soon
Share This Page
Info
120 minutes
Director: Iain Forsyth & Jane Pollard
Cast: JARV IS
UK (2020)
Synopsis
Presented by Rough Trade and Deeper Into Movies.
JARV IS... invites you to a special evening of entertainment and a full supporting programme of karaoke, broadcasts and rare and unseen gems curated by Jarvis Cocker.
Main feature - Live from Centre of the Earth (2020) plus an exclusive Q&A with Jarvis Cocker, Iain Forsyth + Jane Pollard.
Filmed at Peak Cavern in Derbyshire, UK, the performance brings JARV IS... Beyond The Pale album performed in its entirety.
Finding themselves unable to tour, Jarv Is… set up their equipment in a cave and played their new album "Beyond The Pale" in its entirety. This unique live concert film is directed by Iain Forsyth & Jane Pollard (20,000 Days on Earth) with cinematography by Erik Wilson (Paddington, The Dark Crystal).
NOTE: THIS FILM CONTAINS STRONG LANGUAGE AND FLASHING LIGHTS
By purchasing a ticket you are confirming that your group of two is from the same household or support bubble.
Presented by Deeper Into Movies & Rough Trade.