Family Romance, LLC + Q&A with Werner Herzog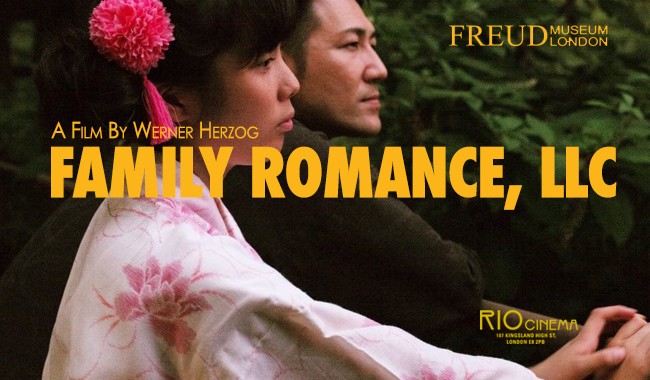 Opens Fri Mar 06 2020
Coming Soon
Share This Page
Info
90 minutes
Director: Werner Herzog
Cast: Ishii Yuichi, Mahiro Tanimoto
UK (2020)
Synopsis
Freud Museum London presents:
A special preview screening of Werner Herzog's latest film, Family Romance, LLC, followed by a discussion with the director, chaired by Mary Wild.
A 'stranger than fiction' contemplation of loneliness and family values, the film is inspired by the real Japanese phenomenon of companies that assign actors to imitate and impersonate friends and family members. Shot in Tokyo with a Japanese cast, the funny, fascinating and moving film brings a unique angle to the recurring theme of individuals chasing impossible dreams.
It was first screened at the 2019 Cannes Film Festival and will be widely released on 1 May 2020 by Modern Films.
Werner Herzog is a German film director, screenwriter, author, actor, and opera director. Herzog is a figure of the New German Cinema. His films often feature ambitious protagonists with impossible dreams, people with unique talents in obscure fields, or individuals who are in conflict with nature.
Mary Wild is the creator of the PROJECTIONS lecture series (psychoanalysis for film interpretation), which has been running regularly at Freud Museum London since 2012. Her interests include cinematic representations of identity, femininity, the unconscious, love and mental illness.
Buy tickets here: Freud Museum