CARPE DIEM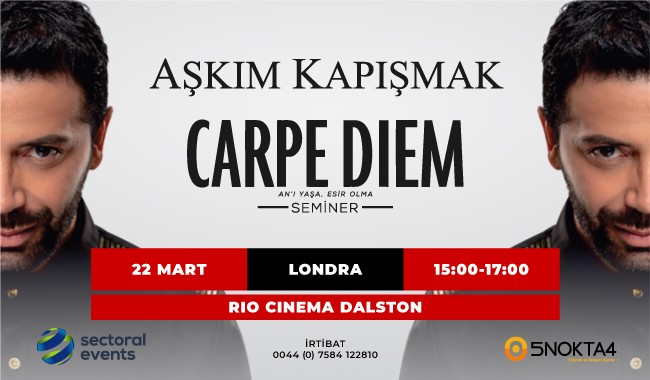 Book Tickets
Click a time to book tickets
Info

Please be aware that there are no trailers before the performance.

Synopsis

ASKIM KAPISMAK is a well known Author, Life Coach and Personal Development Specialist in Turkey. He wrote many books about personal developments and life experiences with his own techniques. He also joined hundreds of talks as a guest speaker to talk about his very unique profession field.




As everyone try to find out real happiness and self-consciousness, Askim Kapismak will tell you what is the purpose of life and how to live as a happy person? He will use some of his unique techniques to show us what is the different between who actually you are in the life than who you think you are? Do you really live at present or past or future? He will tell the secret of living at present with Carpe Diem.




The seminar will take 1,5 hours with interactive talks. The name of seminar comes from his one of latest books which is also translated in English. We will have an opportunity to get his signature on Carpe Diem book which you can buy at the venue before or after event. Signing book session will take only 30 minutes after the show.




Event page: Facebook/CarpeDiemSemineri




a £5 Group discount will be applied over 10 seats at the same order.