Once Upon A Time In Hollywood 35mm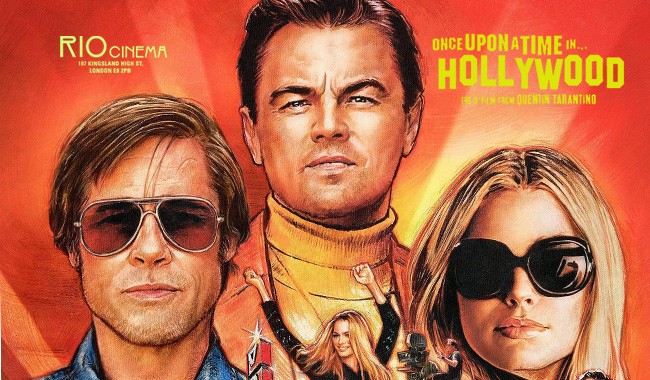 Opens Tue Aug 20 2019
Coming Soon
Share This Page
Info
161 minutes
Director: Quentin Tarantino
Cast: Leonardo DiCaprio, Brad Pitt, Margot Robbie, Emile Hirsch, Margaret Qualley, Timothy Olyphant, Al Pacino, Dakota Fanning
USA (2019)
Synopsis
Quentin Tarantino's ninth film is an extraordinarily detailed and epic cocktail of nostalgia and disquiet with a large ensemble cast and multiple story lines which recreate the twilight of Hollywood's Golden Age as it played out during the most dramatic summer of the 1960s.
Los Angeles 1969 and everything is changing. Veteran actor Rick Dalton (Leonardo DiCaprio) is coming to the end of his leading man career. Currently employed as a baddie-of-the-week on multiple television shows, he relies on his stunt double/chauffeur, Cliff (Brad Pitt). Cliff also looks after the house on Cielo Drive where director Roman Polanski and actress Sharon Tate (Margot Robbie), have just moved in next door...
ONCE UPON A TIME IN HOLLYWOOD is a movie of many pleasures, not least in Tarantino's meticulously detailed recreation of the time and the place. A great supporting cast - Kurt Russell, Lena Dunham, Michael Madsen, Bruce Dern, Al Pacino and Damian Lewis among them - adds to the delights. With its masterful mix of violent, tender and fun moments, this fascinating blend of fact and fiction is a truly virtuoso piece of filmmaking and Tarantino at his entertainingly irreverent best.