PERFORMANCE + Q&A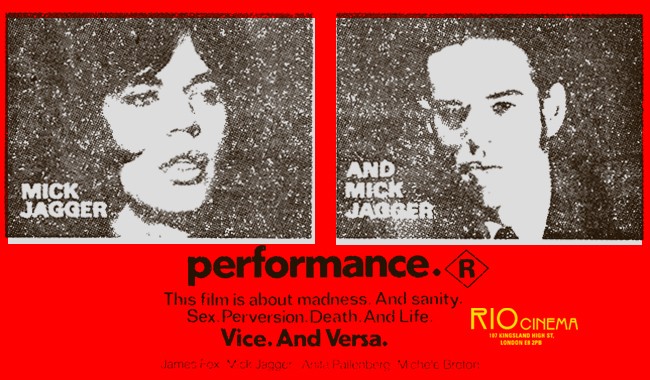 Book Tickets
Click a time to book tickets
Info

105 minutes
Director: Donald Cammell/Nicolas Roeg
Cast: James Fox, Mick Jagger, Anita Pallenberg.
UK (1970)

Synopsis

A 50th anniversary celebration of one of the all time great landmark British films as the making of PERFORMANCE is recalled in a live Q&A with its legendary producer, Sandy Lieberson in conversation with author Jay Glennie.




London's seedy criminal underworld explosively collides with it's swinging1960s psychedelic underground scene as pychotic gangster on the run Chas Devlin (James Fox), hides out in washed-up reclusive rock star Turner's (Mick Jagger) Notting Hill pad. Crime boss Harry Flowers (Johnny Shannon) wants blood!




PERFORMANCE was written and directed by acclaimed director of photography Nicolas Roeg, his first film as director, and maverick art world bohemian Donald Cammell. Its exploration of identity and sanity remains as extraordinary as its amazing soundtrack.




Sandy Lieberson produced PERFORMANCE and his company, Goodtime Enterprises went on to make THAT'LL BE THE DAY STARDUST, SLADE IN FLAME AND BUGSY MALONE.




Jay Glennie is the author of "Performance - The Making Of A Classic". He has also written on THE MAN WHO FELL TO EARTH and is currently working on a book about THE DEER HUNTER.