BIRDS OF PASSAGE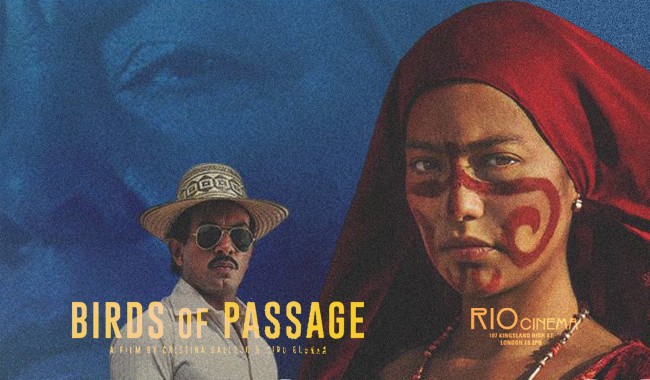 Book Tickets
Click a time to book tickets
15:45

basement

Share This Page

Info

125 minutes
Director: Cristina Gallego & Ciro Guerra
Cast: José Acosta, Natali Reyes, Carmiña Martínez, John Narváez, Greider Meza
Colombia/Denmark/Mexico (2018)

Synopsis

A powerfully gripping, epic tale of culture, family, and greed from the makers of the sublime EMBRACE OF THE SERPENT. Or how what was meant to be a one-time marijuana deal turns into a major drug trafficking operation that transforms lives and destroys a rich culture.




1968.Under the desert sun of northern Colombia's arid Guajira region, the Wayuu tribe has gathered to watch Zaida's coming-of-age ceremony — an intense dance that catches the eye of young suitor Rapayet. Unable to provide the hefty dowry required to take Zaida's hand in marriage, Rapayet finds an opportunity for fast cash by helping young Peace Corps volunteers procure marijuana. This provides him not only with the dowry but also a taste of the dizzying pleasures of the outside world...




As indigenous traditions clash with the corrupting forces of wealth and power, BIRDS OF PASSAGE becomes a unique multi-layered re-imagining of the traditional crime family gangster genre so familiar from film and television. With nods to Greek tragedy, and the work of Colombian author Gabriel García Márquez, it is an utterly beguiling original, powerfully imbued with surreal beauty and the elemental power of the ages.




This film is subtitled.