The Last Movie - Dennis Hopper Double Bill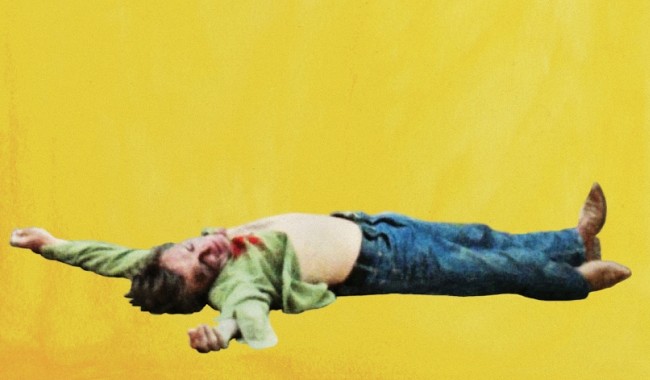 Book Tickets
Click a time to book tickets
Info

108 minutes
Director: Dennis Hopper
Cast: Dennis Hopper, Sam Fuller, Peter Fonda, Michelle Phillips, Russ Tamblyn, Dean Stockwell, Kris Kristofferson
US (1971)

Synopsis

The Last Movie




'The Last Movie': Dennis Hopper's Misunderstood Masterpiece Deserves a Second Chance — And Now, It's Getting One

After "Easy Rider," Hopper directed a movie that nearly destroyed his career. At long last, it's getting a second chance.

Eric Kohn

Indie Wire




The Last Movie is Dennis Hopper's lost 1971 Golden Lion winner. It was written by Stewart Stern (Stern had written Rebel Without a Cause, in which Hopper played a small role along side his hero and friend James Dean), and directed by Hopper, who also plays a horse wrangler named after the state of Kansas. Dean Stockwell, Peter Fonda, Henry Jaglom and Michelle Phillips join Hopper on this Peruvian expedition into the chaos and excess of Hollywood, old and new.




Plots aren't always important in Hoppers world, but the story with in the film, with in a film goes something like this: A film shoot in Peru goes badly wrong when an actor is killed in a stunt, and the unit wrangler, Kansas, decides to give up film-making and stay on in the village, shacking up with local prostitute Maria. But his dreams of an unspoiled existence are interrupted when the local villagers start killing each other by re-enacting scenes from the film for real because they don't understand movie fakery...




The movie won the Critics Prize at the Venice Film Festival; despite this, it failed financially and critically after a two-week run at New York City's Cinema 1 (Contrary to some sources, including statements by Hopper himself, the film did play in other theaters across the country after its New York premiere, even playing at drive-ins under the name Chinchero.) Owing to its resulting demise, Hopper did not direct again until 1980's Out of the Blue.




Double Billed With




Along For The Ride




Along for the Ride" explores the highs, lows and ultimately the phoenix like ascension of iconic Hollywood maverick Dennis Hopper all as seen through the eyes of his mysterious longtime "right hand man" Satya de la Manitou.

Filmmaker NICK EBELING chronicles the unlikely duo's incredible 40+ year journey, an enduring and intense brotherhood, as intimately complex as Hopper's own legendary career.

De la Manitou re examines his dedication to his friend's idiosyncratic and uncompromising genius, reminiscing with a fascinating cast of characters Hopper's co

conspirators, family and friends all those that were also unwittingly or willingly ALONG FOR THE RIDE. The result...is one hell of a trip.

Original Score by Gemma Thompson of Savages. "Along for the Ride" also features rare and unseen photos and vintage film.




Get your double bill TWO TICKETS FOR THE PRICE OF ONE HERE.