Untitled Bar Presents: The Song Remains the Same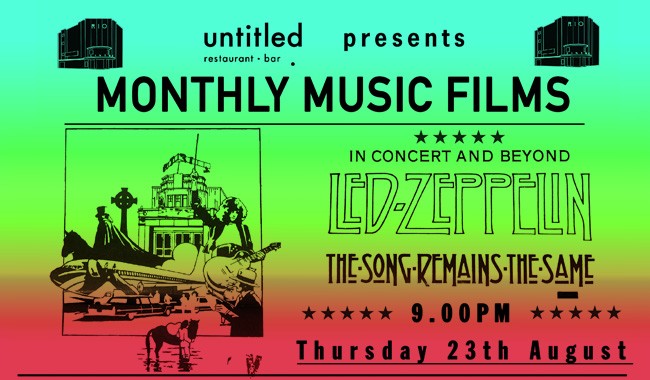 Opens Thu Aug 30 2018
Coming Soon
Share This Page
Info
Synopsis
Untitled and Rio Cinema invite you to the exclusive screening of Led Zep's 1973 Concert tour film Song Remains the Same.
£10 tickets include a cocktail at the Rio, or upgrade to a £20 ticket and enjoy a yakitori selection and beer in Untitled's amazing Moon Garden before the screening!
Only a limited amount of tickets for noodles are available, so make sure to choose your ticket wisely!
Movie + cocktail (£10): CLICK HERE
Movie + cocktail + Yakitori and a beer at Untitled before the screening (£20): CLICK HERE
Food is served at Untitled from 7pm, followed by a short jaunt to the cinema to watch the movie at 9pm.
Untitled Bar : 538 Kingsland Road E8 4AH
Rio Cinema : 107 Kingsland Road E8 2PB
Sit back and enjoy Led Zeppelin's 1973 concert tour to promote their album Houses of the Holy, featuring footage from their Madison Square Garden concerts. Interspersed is footage of the band on tour, their private lives and dramatised images of what the songs mean to them. Songs include: Rock 'n Roll, Black Dog, Since I've Been Loving You, No Quarter, The Song Remains the Same, The Rain Song, Dazed and Confused, Stairway to Heaven, Moby Dick, Heartbreaker, Whole Lotta Love.
This collaboration with the Rio Cinema comes from sharing the same ethos and the mutual desire to support our local businesses.
We are very proud to be part of the rich and diverse community that is Dalston and we believe that living in harmony with your neighbours and supporting one another is key to everything.
Join us for an evening of Noodling, Noodles and Crafted cocktails!