COVID 19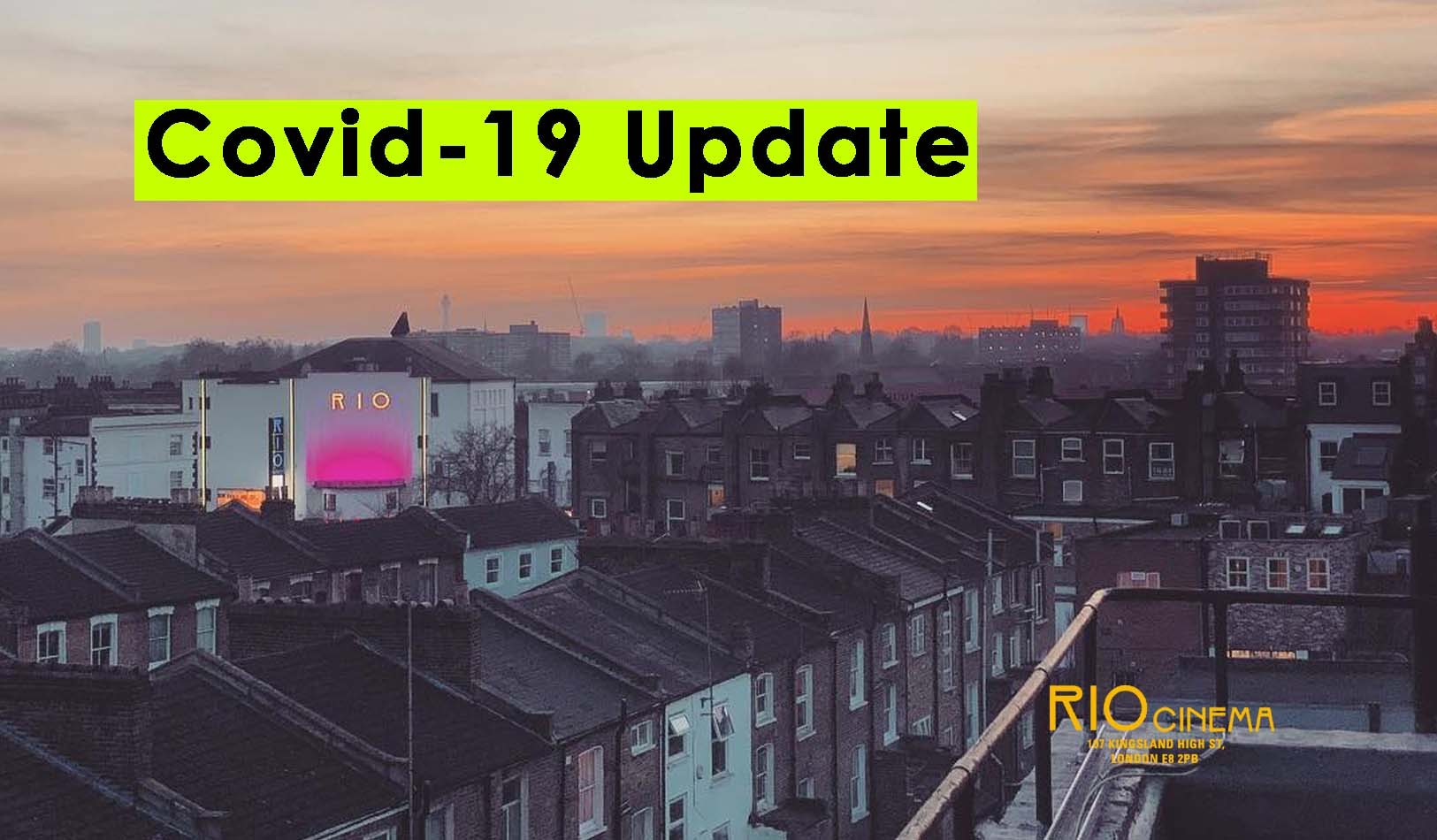 RIO CINEMA COVID-19 MEASURES
December 2021 Updates
From Friday 10 December, masks are mandatory thoughout the building, in the bars and auditoriums.
September 2021 Updates
From Friday 17th, screen 2 will go back to full capacity.
From Thursday 30th September, screen 1 will go back to full capacity for most screenings. Please talk to a member of staff if you don't feel at ease and we will try our best to find you a socially distanced seat in the Circle (level 1).
July 2021 Updates
From July 19th, Covid restrictions are relaxing, but, at the Rio, we will be continuing with a level of social distancing in both auditoriums and will increase capacity further when we are confident it is right to do so. We will keep up all the extra cleaning measures to make the environment as hygienic as possible for our staff and customers. We recommend that you continue to wear a mask while you are in the cinema and ask that you do not come to the cinema if you have any symptoms that could be Covid.
IS IT SAFE TO COME TO THE RIO?
We take the health and safety of our guests and our staff very seriously.
We are following government safety guidelines as well as advice from the United Kingdom Cinema Association (UKCA).
In line with government and industry guidelines, we are putting a number of safety measures in place so that you can relax and enjoy the cinema experience, safe in the knowledge that we have everything covered.
This requires a few changes to your usual cinema visit:
It is mandatory to wear masks in the foyer, corridors and screens.

We ask that you book your tickets online to reduce the time spent at the box office and to ensure safely distanced seating.

We ask that you queue outside the cinema until it is time to take your seat to reduce the time spend mingling indoors.

You are welcome to check-in for Test and Trace by using either the QR code or by writing down your details in our visitors book at the main entrance. Sharing contact details with the NHS, where requested, can help to identify people who may have been exposed to the virus. The collected data will only be held for 21 days and will only be used where necessary.

Customers showing symptoms may not be admitted inside the building. If you do show symptoms and have already booked a ticket, please stay at home and contact us at

manager@riocinema.org.uk

or on 020 7241 9410. We will go through different options with you.

We have a one-way system in place, you won't exit the way you came in, avoiding potential customers waiting for the next film.

Card payment only - contacless if possible.

We have installed social distancing signs throughout our cinemas so that we can all give one another the space we need to feel safe.

We have staggered the start times for all of our films to reduce the number of people arriving and leaving at any one time so that we can keep our queues and corridors free.

We have made complementary hand sanitiser readily available throughout the building.

We have trained our staff to handle extra cleaning measures and will be thoroughly cleaning our screens and seats between films.

Group booking is limited to 6 people per performance.

Our bar closes at 10pm.
HOW WILL SOCIAL DISTANCING BE ENFORCED?
We have implemented a one-way system within our cinemas so that customers can pass through the venue while maintaining a safe distance from others at all times. In addition, we have installed social distancing messages on the floors and walls of our cinemas to encourage safe distancing.
We have reduced the capacity of our cinema screens in order to leave plenty of space between groups. You will never be asked to sit too close to another group or customer.
WILL FOOD BE AVAILABLE AT THE CINEMA?
We are serving a reduced selection of food and drinks, but you will be able to purchase our classic selection.
HOW DO I GET IN CONTACT WITH YOU?
You can reach us at manager@riocinema.org.uk or by calling 020 7241 9410.
If you would like updates about cinema opening plans, please sign up to our free weekly newsletter.
You can also follow us on Twitter, Facebook and Instagram.
WHAT IS HAPPENING WITH MY MEMBERSHIP?
If your membership was cut short by lockdown we will automatically extend it for the length of time lost.