The Ludski Bar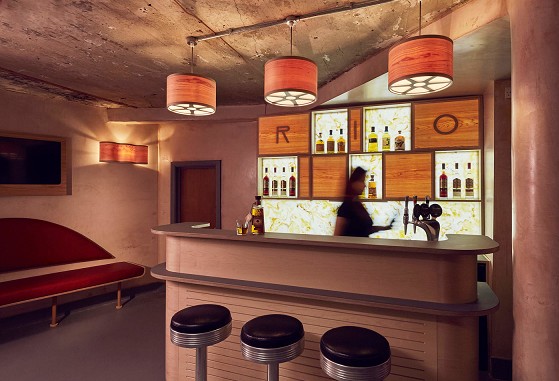 THE LUDKSI BAR IS CURRENTLY CLOSED.
Modern aesthetic and rich heritage combine to create a luxurious and cinematic Whisky bar at the Art Deco Rio cinema.
Now open downstairs next to screen 2, it was generously donated by local furniture makers Lozi as part of the Rio-generation fundraising campaign. So join us after your film, enjoy our selection of specialty whiskies and soak up the cinematic atmosphere.
Named the Ludski Bar after the Rio's founder and inspired by the cult classic films shown at the Art Deco cinema, this modern whisky bar brings together Lozi's signature minimal aesthetic and the Rio's rich cinematic history. Inspired by many of his fond memories of the cinema, Lozi's founder Soroush got involved when he heard about the campaign and offered the Rio what he does best: bespoke design. Entirely done at material costs, the Ludski bar brings the cinema's rich heritage to life to create an elegant contemporary space with a focus on environmentally friendly practices.
Each piece has been carefully designed and crafted by Lozi's in-house team of designer-makers. Discover Lozi's work on their website www.lozidesigns.com or visit them in person at their Work/Shop on Hackney Road.
The room focuses on a dramatic backlit bar, inspired by the Gold Room from iconic cult classic The Shining. Recreating the film's back lit bar with wood veneers and compact acrylic designed to mimic translucent marble, Lozi added their signature curved detailing to reflect the Art Deco architecture of the cinema itself, creating a space that is deeply sympathetic to its surroundings, a piece of cinema brought to life.
Warm curved wood and translucent veneers give this bar a luxurious yet welcoming feel, somewhere you can relax and pretend to be Jack Nicholson enjoying a drink from the bar's selection of specialty Whiskies and locally distilled spirits.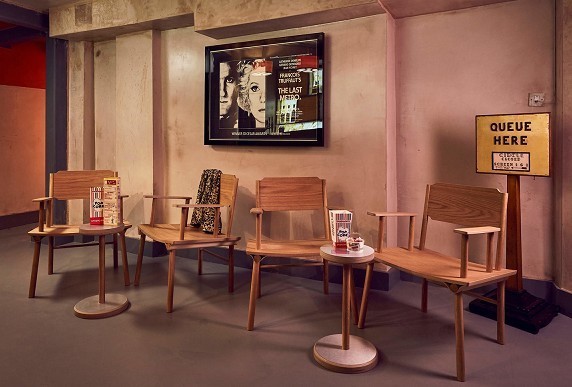 A set of Rio chairs, designed specifically for the cinema and named after it, take pride of place under cult film posters from the Rio's extensive archive. Small tables make the most of a compact space.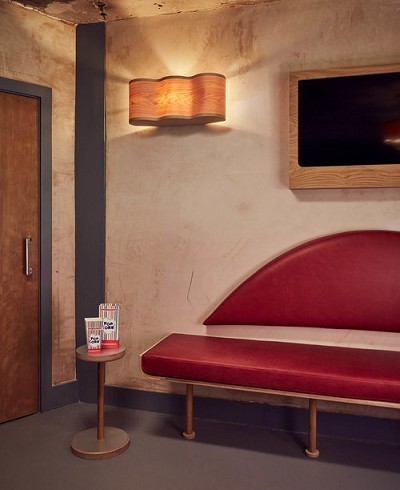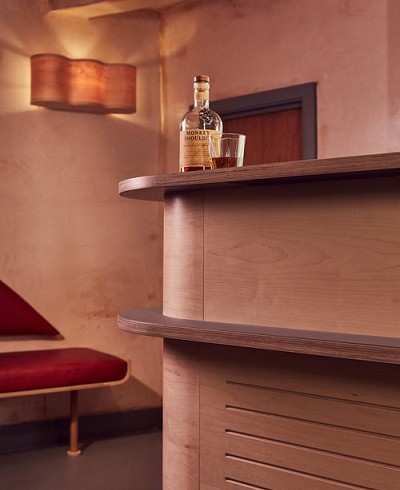 To ensure the bar stands the test of time, Lozi has used hard wearing finishes that can handle the busy Saturday night parties. The bar-top is made from a sturdy and waterproof grey vinyl and the curved wood bar has been sealed with a clear varnish, making it wipeable water resistant. The tables are finished in brushed aluminium and the seating re-upholstered in waterproof leather.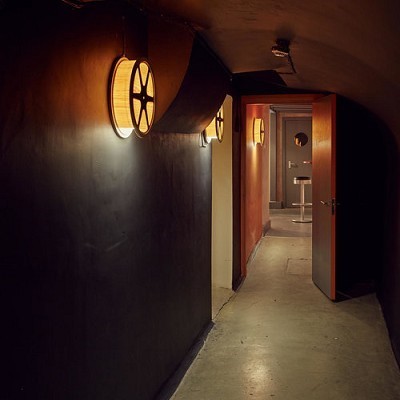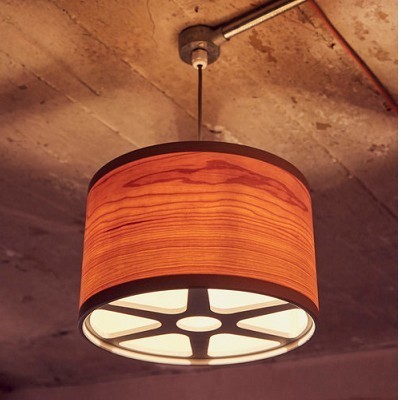 Many original features from the Rio have been up-cycled and adapted - from re-upholstered vintage seating to film posters to joints from cinema's 1950's handrails. Some of Lozi's signature pieces have been given a cinematic twist, like adding shadowed film reels to their translucent Sunset Lamp and creating a new translucent wall lamp inspired by the Art Deco ventilation grates found in the main auditorium.
The Ludski bar continues Lozi's environmentally friendly practice. Sustainable plywood from FSC registered sources is used as standard and the floor is made from phthalate-free eco concrete vinyl. The bar will have a no single use plastics policy and many of the drinks and spirits available will be from small and local breweries and distilleries.