Double Bill: DIARY OF A CHAMBERMAID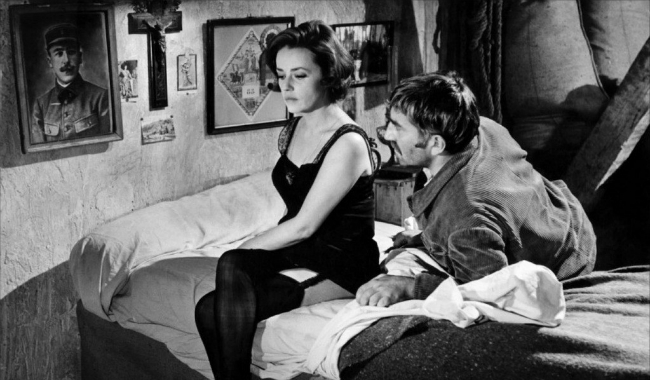 Book Tickets
Click a time to book tickets
Info

94 minutes
Director: Luis Bunuel
Cast: Jeanne Moreau, Georges Geret, Muni, Michel Piccoli.
France (1964)

Synopsis

JEANNE MOREAU DOUBLE BILL




"Although for some people cinema means something superficial and glamorous, it is something else. I think it is the mirror of the world." Jeanne Moreau (1928 – 2017)




14.30 THE DIARY OF A CHAMBERMAID (12)

16.20 LIFT TO THE SCAFFOLD (PG)




THE DIARY OF A CHAMBERMAID




This wicked adaptation of the Octave Mirbeau novel is classic Luis Buñuel, a raw-edged tangle of fetishism and murder—and a scathing look at the burgeoning French fascism of the 1930s.




Jeanne Moreau's is sharp-witted housemaid Celestine who leaves Paris for a job at an estate in provincial France, only to find herself entrenched in hypocrisy, lechery, scandal and a murder mystery.




In his first collaboration with future long-term collaborator screenwriter Jean-Claude Carrière, Buñuel conjures up an amoral world that is rife with perverse touches: a shotgun trained upon a butterfly; sex advice from a priest ("There are caresses…and caresses"); and more than a sprinkling of foot fetishism. And, needless to say, Moreau is superb.




This film is subtitled.




LIFT TO THE SCAFFOLD




The dazzling, nail-bitingly suspenseful and moodily atmospheric thriller that marked the feature debut of director Louis Malle and the very beginnings of the Nouvelle Vague also catapulted actress Jeanne Moreau to international stardom. She is simply mesmerising as a woman intent upon engineering with her lover to escape a stifling marriage with the perfect murder.




Julien Tavernier (Maurice Ronet), a veteran of the Indo-China and Algerian wars, plans the perfect murder of his boss, an arms manufacturer who is also the husband of his lover Florence (Moreau). When events take a nightmarish turn, she is left to pace the streets of Paris, anxiously waiting and searching for him with no way of knowing what has happened...




Moreau's performance, Malle's direction, the glistening black-and- white photography and the legendary improvised jazz soundtrack by Miles Davis have ensured an undisputed classic status for LIFT TO THE SCAFFOLD and a place alongside the very greatest film noirs.




This film is subtitled.




Don't forget to aslo book a ticket for Lift To The Scaffold here!

The discount will automatically apply at the checkout!