THE DEATH OF STALIN P&B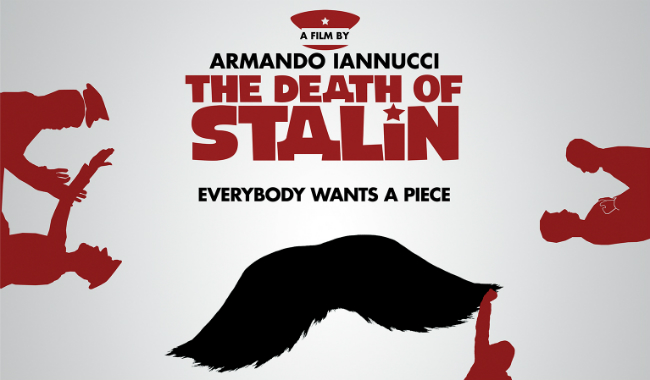 Book Tickets
Click a time to book tickets
11:30

Parents & Babies Club

Share This Page

Info

107 minutes
Director: Armando Iannucci
Cast: Steve Buscemi, Jason Isaacs, Andrea Riseborough, Jeffrey Tambor, Adrian McLoughlin, Rupert Friend, Olga Kurylenko
UK/France (2017)

Synopsis

The latest in a distinguished and hilarious line of scathing political satires - The Thick of It, Veep, IN THE LOOP – from the great Armando Iannucci is another acerbic send-up of venal, unfit leaders and corrupt government. It's set in the Russia of the early 1950s and of course any contemporary relevance is completely coincidental




The year is 1953. Dictator and mass murderer Joseph Stalin (Adrian McLoughlin) continues to terrorise everyone, summarily killing off any suspected dissenters, and keeping even his cronies on edge. Then comes The Stroke of Fate and suddenly his cowering minions are plotting and jostling for power. Among the scheming bootlicks turned aspirants are milquetoast Malenkov (Jeffrey Tambor), wiseguy Khrushchev (Steve Buscemi), bewildered Molotov (Michael Palin), thuggish Zhukov (Jason Isaacs), and depraved Beria (Simon Russell Beale), Stalin's drunken son Vasily (Rupert Friend) and jaded daughter Svetlana (Andrea Riseborough). Ineptitude was never so funny.




A superb cast squeezes out every drop of paranoia and malice from Iannucci and co-writers David Schneider and Ian Martin's adaptation of the original French graphic novel series. THE DEATH OF STALIN is outrageously funny and provocative, perceptive and sharp, but best of all, it's all true!