comm•une presents Raving Iran + Q&A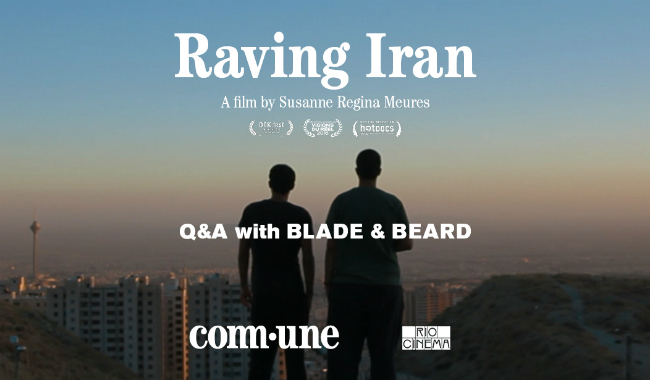 Book Tickets
Click a time to book tickets
Info

84 minutes
Director: Sue Meures
Switzerland (2016)

Synopsis

The film is a must-see chilling insight into the lives of two young men defying the Iranian regime with their love for music.




Join us for a post-screening Skype Q&A with Anoosh and Arash, hosted by comm•une!




Anoosh and Arash are at the center of Tehran's underground techno scene. Tired of hiding from the police and their stagnating career, they organize one last manic techno rave under dangerous circumstances in the desert. Back in Tehran they try their luck selling their illegally printed album without permission. When Anoosh is arrested, there seems to be no hope left. But then they receive a phone call from the biggest techno festival in the world. Arriving in Switzerland, they are overwhelmed by their own dream. Radio- and newspaper interviews, millions of ravers and other DJ's catapult them into another sphere.

The haze of the instant euphoria evaporates quickly when the seriousness of the situation starts to dawn on them. With their visa expiring they have to make a decision: Should they stay in Europe or should they go back to Iran...?




Directed by German filmmaker Susanne Meures, the documentary lifts the lid on Terhan's underground techno scene, exposing the struggles, dangers and persecution faced by DJs Anoosh and Arash (aka Blade & Beard). After reading a news piece about a couple of young Iranians throwing techno parties in the desert, Meures yearned to know more. What was it about dance music that was inspiring these middle-class kids to go against the government and its censorships?




BIOGRAPHY

Susanne Regina Meures was born in the West of Germany. Studied photography and history of art at The Courtauld in London and film at the Zurich University of the Arts. She worked for numerous print publications before moving to film. Raving Iran is her first feature length documentary.