Double Bill: WHO'S AFRAID OF VIRGINIA WOOLF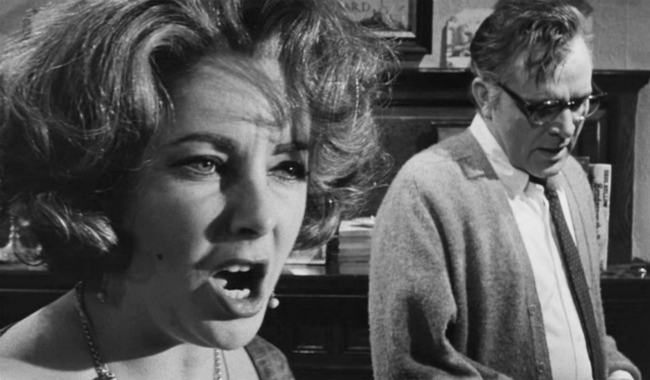 Book Tickets
Click a time to book tickets
Info

Please be aware that there are no trailers before the performance.

128 minutes
Director: Mike Nichols
Cast: Elizabeth Taylor, Richard Burton, George Segal, Sandy Dennis.
USA (1966)

Synopsis

The Great Originals Double Bill




With new productions of both OSSESSIONE and WHO'S AFRAID OF VIRGINIA WOOLF about to be broadcast by NT Live, this is an opportunity to discover two great originals.




At 1.00pm




WHO'S AFRAID OF VIRGINIA WOOLF (12)




This searing adaptation of Edward Albee's powerful and poignant play remains a movie landmark, and not just as a seminal film of the 1960s, the winner of five Academy Awards (out of an astounding 13 nominations), or as one the best and most faithful film adaptations of a stage play in modern cinema. With its controversial language and content, Mike Nichol's debut feature changed Hollywood forever. It was the first film to be released with a warning about its adult content and paved the way for more honest, reality based movies for grown ups. It was also the greatest collaboration of the duo who at the time were the most famous married couple on Earth, Elizabeth Taylor and Richard Burton. He's George, a passive middle-aged Associate Professor at a small New England college long married to the hard-drinking foul-mouthed Martha (Taylor), the malcontent daughter of the college president. When they invite the new young biology professor Nick (George Segal) and his mousy wife Honey (Sandy Dennis) back for a nightcap, an evening of abusive, masochistic rituals, mind games, uncomfortable revelations and shattered illusions begins...




At 3.30pm




OSSESSIONE (PG)




Often described as the real beginnings of the post-war Italian neo-realist movement OSSESSIONE was director Luchino Visconti's much censored and banned first feature film. Loosely based on James M. Cain's pulp novel The Postman Always Rings Twice with the setting moved from California to the Po Valley, it perfectly captures Cain's dark, sweaty world of earthy characters, frank sensuality, murder and betrayal. Gino, an unemployed mechanic, arrives at a shabby inn owned by Giovanna and her much-older husband, Bragana. When they become lovers, an inevitable series of tragic events is set in motion... The Italian Culture Minister at the time called it "a film that stinks of latrines," but it survives as a powerful breath of fresh air.




Don't forget to aslo book a ticket for Ossessione here! The discount will automatically apply at the checkout!