UNDER THE CRANES - SAVE RIDLEY RD + Q&A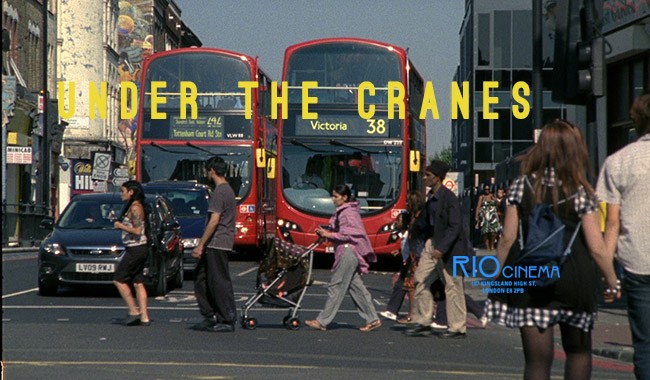 Book Tickets
Click a time to book tickets
Info

Synopsis

Under the Cranes (2011) 56 mins. Dir. Emma-Louise Williams




The film will be introduced by Emma-Louise Williams and followed by a Q&A panel with members of the campaign team and Michael Rosen.

We will also be showing a selection of photographs of Ridley Road Market from the Rio Archive, which were taken in the mid 1980's by the Rio's Newsreel team.




Under the Cranes premiered at the Rio Cinema for the East End Film Festival in 2011. This special screening is a fund-raising event as part of the Save Ridley Road Campaign




Taking Michael Rosen's poetic play for voices, Hackney Streets, as its starting point, Under the Cranes is a meditation on place as central to our experience of history.




The film is shot entirely on location in Hackney and intercut with rare archive footage, new cinematography and paintings by Leon Kossoff, Jock McFadyen and James MacKinnon. The film explores themes of migration and regeneration over several hundred years as we hear from characters including Shakespeare, Anna Sewell, Anna Barbauld, a Jamaican builder, a Bangladeshi restaurant owner and the Jewish 43 Group taking on Oswald Mosley in Dalston. Streets, parks, cemeteries and markets, both past and present, create layers of lives that raise questions about the process of regeneration whilst celebrating how "the world comes to Hackney".




The Campaign - The last 10 years has seen massive rises in land values and rents for homes, shops and workspace in Hackney. Young families, small business, artisans and cultural businesses have been increasingly priced out.




Ridley Road street market is not immune from these forces. Already plans have been approved for development of luxury flats there. Our market is under threat from regeneration, from gentrification, from social cleansing. Its character and affordability, on which so many rely, could soon be lost. Its sustainability is being put at risk.




Last October traders in the "Ridley Road Shopping Village" covered market, several of whom had been there for more than a decade, were given just 14 days to leave voluntarily or get locked out. There was an outcry and the #SaveRidleyRoad community campaign rallied to their defence. Some traders have clung on there, now with tenancy contracts and guarantees of compensation and a right to return if the building is redeveloped. But business has been blighted by that incident, by on-going dereliction and by the threat of re-development.




The building is now owned by an off-shore company, registered in the Virgin Islands tax haven, which has applied for planning permission for redevelopment. If granted there will be a loss of 40 out of the 60 small shops units, a loss of 90% of the storage space on which traders in the street market also rely, and the loss of 60 artists' studios. In their place will be just 20 small shop units, minimum storage, and the remainder will be two floors of "high standard" offices and 5 "very high standard" flats. The Rio, in collaboration with OPENDalston, is hosting the "Under the Cranes" event to help raise funds for the campaign to #'SaveRidelyRoad




UNDER THE CRANES




"A polyphonic meditation on time and urban space, a cinematic version of one of Charles Parker's 'Radio Ballads' - a joyous wonder, an instant addition to the modern canon of filmic London". BFI




"Engaging, gentle, dreamlike – Williams' Hackney is a layered, shifting place teeming with multiple voices and realities, echoed verbally by Rosen's collage of reminiscence, characteristically generous poetry and collected urban folksongs. Rosen's presence reminds us of east London's reputation as a place of political upheaval." Sight and Sound




"A wonderfully life-affirming film-poem of place full of lost time and effacements, reefs of street-markets and shop fronts, painted in stock-brick yellows, steel shutter greys and silvery monochromes; and full of people, always people, the voices who have passed this way and called this home. As a collage of the city at its most quick, it has the ache and tug of what has been and gone; as a moving study of resourcefulness, resistance and resilience, it collapses time and returns each story to its street. " Paul Farley




"For questionable reasons, in the media, the sight in a market of African textile prints and the sound of a Cockney voice selling tomatoes are separated. It's untruthful. But the truth is there on Ridley Road Market and it is shot through the film too. And I loved it. This film is a rare thing. " Lemn Sissay




" A marvellous evocation of Hackney – the place, the peoples and their dreams too. It reveals the ruin, disconnection and the frailty of life without giving an inch to literary misanthropy or the voyeuristic perspectives in which east London is exploited for tales of misery, depravity and social failure." Patrick Wright




"A powerful plea for a liveable Hackney, that can continue to welcome the world rather than only its bankers and landlords." Ian Christie




"This beautifully constructed film urges us to recognise what is already there, at the heart of a diverse and thriving community, while raising the question that perhaps we are all living in the shadow of the cranes." Socialist Review




Michael Rosen is an award-winning writer, performance poet and broadcaster. He is a former Children's Laureate, Professor of Children's Literature at Goldsmiths, University of London and presents BBC Radio 4's acclaimed programme about language, Word of Mouth.




Emma-Louise Williams is a radio producer. Her work is commissioned by BBC Radio 4 and Radio 3 and often combines archive, social histories and poetic sound montage as a way to explore the condition of living in the city. Most recently, Living Room considered the present housing crisis in the light of the influential 1961 Parker Morris report, "Homes for Today and Tomorrow".




In 2017 Emma co-curated an exhibition with Michael Rosen, The Working Artist: East London Group for the Nunnery Gallery, Bow. The East London Group were a group of artists working mostly between the Wars who looked closely at the built environment of the East End.