LORO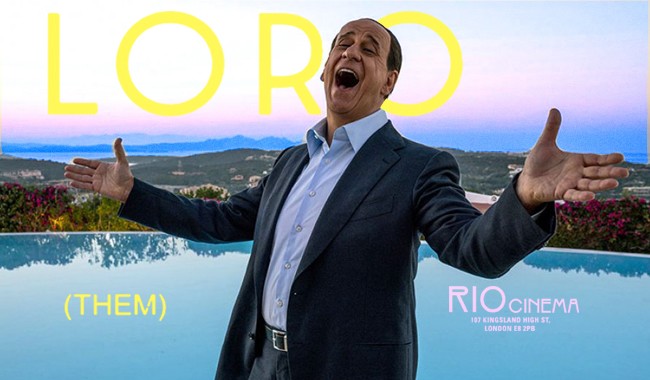 Book Tickets
Click a time to book tickets
Info

151 minutes
Director: Paolo Sorentino
Cast: Toni Servillo, Elena Sofia Ricci, Riccardo Scamarcio, Kasia Smutniak
Italy (2018)

Synopsis

Paolo Sorentino, the Academy Award winning director of THE GREAT BEAUTY, returns with The Great Italian, an epic tale of ambition, corruption, sex, drugs, scandal and bunga bunga which could be viewed as a very unauthorised portrait of one Silvio Berlusconi, controversial billionaire, media mogul and four-time Prime Minister of Italy.




Sergio is a guileful businessman who manages a group of young escorts which he uses to bribe local politicians and authority figures. With a desire for increased political leverage, he sets his eyes on bigger game and becomes determined to work his way into the privileged circle/seedy orbit of a man with a notorious taste for both hedonism and corruption even greater than his own — Silvio Berlusconi...




Topped by a wonderful in depth performance by the great Toni Servillo as Berlusconi, LORO is a rich visual feast packed with comically satirical stings. Little remains unskewered as it reveals and explores the private realities behind the public scandals.




This film is subtitled.