FRINGE! The Daughters of Fire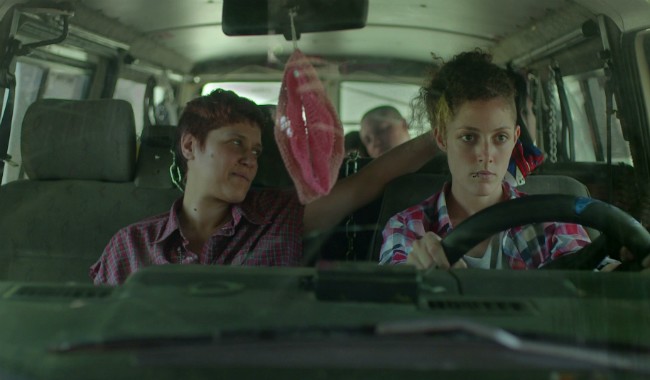 Book Tickets
Click a time to book tickets
Info

115 minutes
Director: Albertina Carri
Cast: Disturbia Rocío, Mijal Katzowicz, Violeta Valiente, Rana Rzonscinsky, Canela M., Ivanna Colonna Olsen, Mar Morales, Carla Morale
Argentina (2018)

Synopsis

Imbued with true eroticism merged into politics and one hell of a road movie, this free-flowing journey is a transformation of landscape and polyamorous desire morphing and unfolding through scenes of explicit sensuousness as a filmmaker-narrator Violeta explores the bodies of all the lovers, the nature of porn, the overthrow of patriarchy and a new way of forming society and existing in the world. The landscape itself is caressed and explored with the same love and attention, changing from hard, unyielding rock and ice to deep and fecund marshes and colonnades of trees spreading like so many thighs. We were swept away by the serious joy of this film, intense sexiness, and the deep appreciation of an inclusively queer lesbian desire.




Director Albertina Carri is not only a stunningly accomplished filmmaker, but also the founder and programmer of Asterisco, Argentina's International LGBTIQ Film Festival, and the years of being steeped in queer film truly pay off - The Daughters of Fire is exactly the kind of naturally free flowing and unapologetically, writhingly queer work that embodies everything we want to bring to screens in this festival.




Contains scenes of an explicit nature. 18+ only.