PETERLOO + Mike Leigh Q&A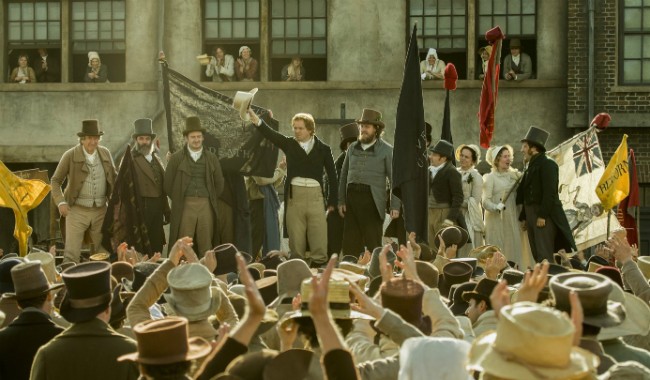 Book Tickets
Click a time to book tickets
Info

155 minutes
Director: Mike Leigh
Cast: Rory Kinnear, Maxine Peake, Neil Bell, Philip Jackson, Vincent Franklin, Karl Johnson, Tim McInnerny
UK (2018)

Synopsis

Written and directed by Mike Leigh, PETERLOO is an epic portrayal of the events surrounding the infamous 1819 Peterloo Massacre, where a peaceful pro-democracy rally at St Peter's Field in Manchester turned into one of the bloodiest and most notorious episodes in British historya defining moment in British democracy.




Almost 200 years ago, British soldiers returning from the battle of Waterloo find little but poverty and oppression to welcome them home. The French have already had their revolution and the disenfranchised men and women of Manchester are stirring with their own desire for reform. Nellie (Maxine Peake) is sceptical. Raising her family on a pittance, she is more concerned with food on the table than attending the increasingly volatile protest meetings. But many have been inspired. A peaceful march and assembly is arranged, where the star speaker will be Henry Hunt (Rory Kinnear), a radical orator famous throughout the land for his stimulating rhetoric. As the day approaches the government grows nervous, while the people grow emboldened...




In PETERLOO, director Mike Leigh gloriously draws together many of his long-standing preoccupations: class consciousness, family dynamics, hypocrisy, humanism and the foibles of the male ego. Against the backdrop of cinematographer Dick Pope's beautiful Manchester/Lancashire canvas, the film weaves multiple stories of everyday people into a socialist tapestry and depicts an act of police brutality with huge contemporary relevance. Warm, funny and incendiary, this is a major work from a very great director.




This Preview Screening of PETERLOO, part of the London Film Festival, is followed by a Q&A with Mike Leigh and members of the cast broadcast live from Home, the Manchester arts centre which is situated close to where the events of 1819 actually happened.